Where are you on your path?
Your path to financial clarity and freedom is unique. That's why we offer these six services — and more, depending on your needs and goals.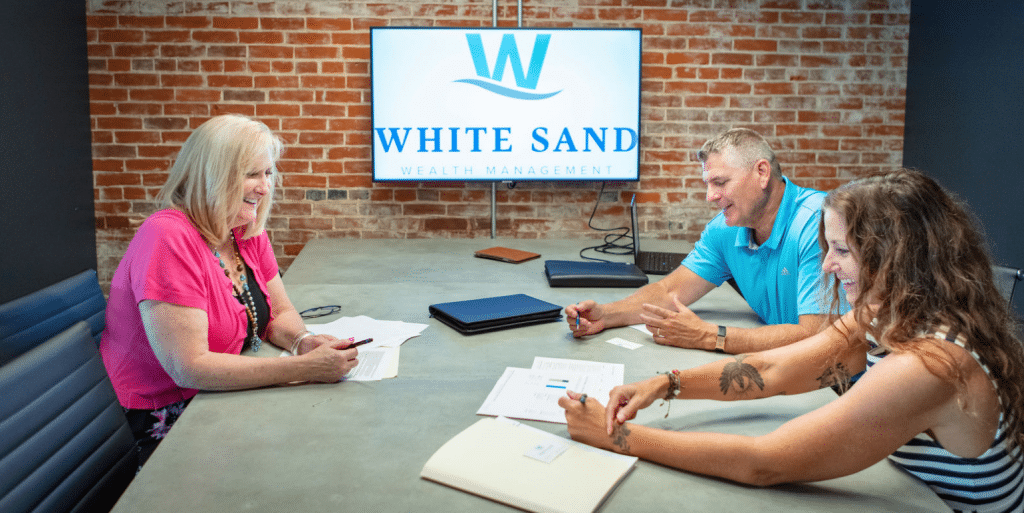 It all starts with a goal (as most big things do). After establishing a long-term target that considers your risk tolerance, we analyze your existing portfolio and ensure it fits with your goals. Ultimately, we'll make sure you are well diversified, tax-efficient, and cost-effective. We use Charles Schwab & Co. Inc. Institutional to custody all client assets, giving us cutting edge technology and research.
*Charles Schwab & Co. Inc. is the firm that we use to custody our client assets. Charles Schwab & Co. Inc. and White Sand Wealth Management are separate and unaffiliated firms, and are not responsible for each other's services or policies. Charles Schwab & Co. Inc. does not endorse or recommend any advisor and the use of the Charles Schwab & Co. Inc. logo does not represent the endorsement or recommendation of any advisor. Brokerage services provided by Charles Schwab & Co. Inc. Institutional, Division of Charles Schwab & Co. Inc., Inc., member FINRA/SIPC. Charles Schwab & Co. Inc. is a trademark jointly owned by Charles Schwab & Co. Inc. IP Company, Inc. and The Toronto-Dominion Bank. Used with permission.
First, we gather extensive data about your personal financial situation and your goals. Using the latest financial planning software, we put together a plan that sets you smack-dab on the path to financial success. Retirement planning, budgeting, risk management, or just needing to wrap your brain around what's next—we've got our hands on the steering wheel. You just enjoy the ride.
Chances are, you're not going to be buried with your hard-earned cash (if you are, well, that's a conversation for another time). Let's make sure you aren't worrying about what's going to happen with your assets when that time comes. Together, we'll take a look at your current situation and put a plan together, ensuring the process for your loved ones is as seamless and straightforward as possible.
You work to live (not the other way around). How would it feel to have your path to retirement laid plainly in front of you—a roadmap to financial freedom charted in black and white? Yea, pretty good. Let's figure out what you need to get there.
The dreaded three-letter word. We get it. However, managing taxes is a vital component of your overall plan and vision for your future. That's why we get a kick out of mitigating some of the pain caused by helping you manage them. Oh, and if we are managing $500,000 or more of your assets, personal tax preparation is on the house. If your situation is a little on the tricky side (or a business return), an additional fee may be assessed.
If your social security benefits leave you scratching your head, no worries, we have you covered with our very own Registered Social Security Analyst.
Employer Retirement Services
You run your own business, you're busy we get it. You have great employees and want to keep them.  No problem, we can walk you through qualified plan options and help you find the one that makes the most sense for you and those that help make your business hum.
One of the joys of wealth is the gift of giving back. We'll take a look at the best strategic approach and help make sure your money matters.
Ready to turn your financial vision into a reality?
Let's Talk.